We fully appreciate that for many of our customers their visit to Scotland is a once in a lifetime experience and so there are some key 'must play' courses that they wish to include while in the country. However, we would actively encourage you all to at least veer off the beaten track for a small portion of the trip so that you can gain a different slant as to what Scotland has to offer and also enjoy less congested courses and more affordable places to stay. Here are some ideas:-
---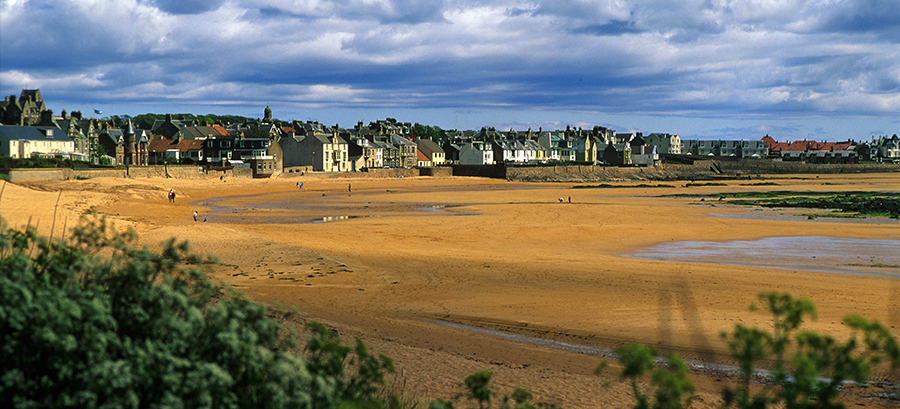 Staying in Elie – rather than St Andrews while playing golf in the area
Although many people prefer to be in St Andrews during their trip, the merits of using Elie as a base are worth considering. This charming coastal village, 13 miles from St Andrews has a lot to offer.   Whilst St Andrews can be very expensive due to very high hotel occupancy levels, Elie is a very relaxed and enjoyable village with two exceptional pubs, plenty of parking (of which there is a serious lack of in St Andrews), and it is easily accessible for all courses featured in a St Andrews itinerary eg. Kingsbarns, Crail, all St Andrews courses and Carnoustie.
As Director, Gordon Adam says he is often asked by customers what his favourite accommodation options would be.
"Personally, I think a week spent at West House in Elie would be an idyllic base for a week's golf in the St Andrews area. For groups of 6-12 who want to take a week long break, West House www.westhouse-elie.com is an exceptional exclusive use property overlooking the beach. It has great character, offers superior comfort and evening catering can be arranged to ensure it has a very relaxed welcoming, house party feel."
We can also highly recommend the charming Ship Inn which has undergone major refurbishment and provides accommodation of 4 star standard overlooking the beautiful harbour and beach.
---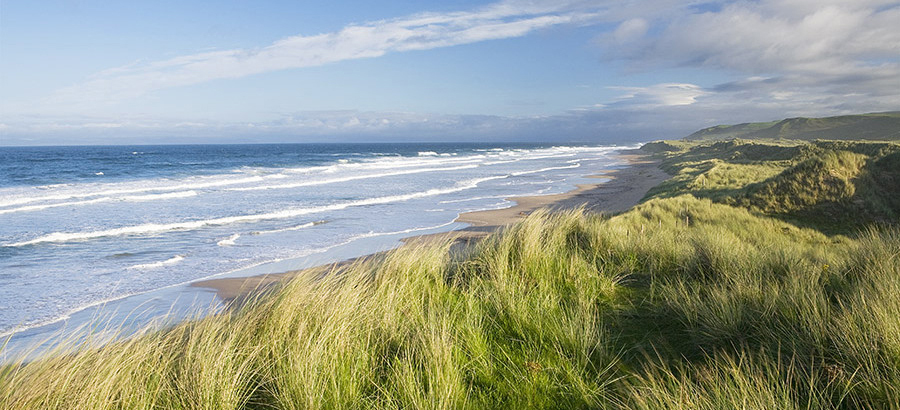 Machrihanish – an alternative to Ayrshire on the west coast 
For those that have already experienced the traditional links of the west coast and are feeling adventurous, Machrihanish is an exciting alternative. Located in the remote Kintyre Peninsula, close to Campbeltown, it is a golf purist's delight. The Old Machrihanish Links is held in high esteem across the globe and in recent years Machrihanish Dunes added and extra dimension to the area.  Due to very strict conservation restrictions, it's like stepping back in time. Despite the fact it is relatively new it has all the features of a links courset from the 1800s! In recent years the area has been greatly enhanced by adding fine accommodation and the Ugadale Hotel commands prime location within a few minutes' walk of Machrihanish Old Links. The area can be accessed from Glasgow by car in approximately 3 hrs or 30 minutes by air (service provided by Logan air).
---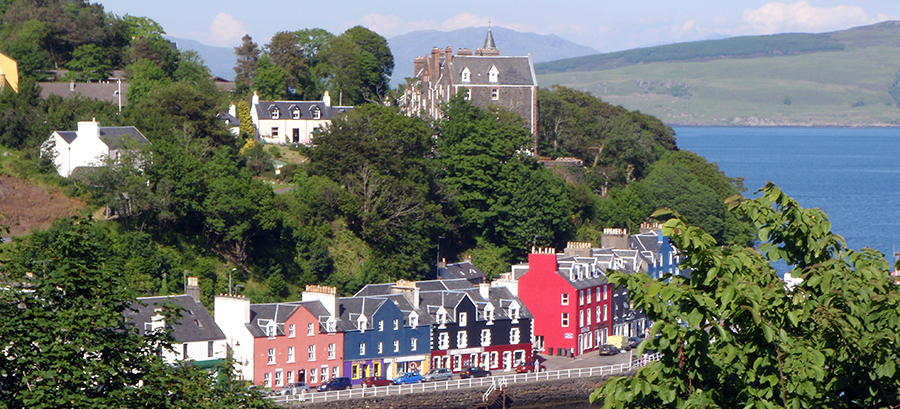 Island Life
If you want to take a break from the high profile Championship links of Scotland, there are some real sightseeing and golfing treasures located on the Isle of Mull and the Isle of Arran.
On Mull you can stay in the imposing and hugely charismatic Glengorm Castle, in the northmost end of the island, an upscale B&B within 15 minutes' drive of Tobermory. Tobermory is one of the most colourful villages in Scotland with an interesting whisky distillery, many great bars and restaurants and a unique little 9-hole golf course which is arguably the most panoramic in the country. It's located at the very top of the village and commands views back to the mainland and islands of Tiree and Coll. Whilst not the most challenging of 9 holes it is a bit of fun and when the golf course is unattended the green fees are paid into an honesty box! The Isle of Mull is indeed one of the most scenic and historic islands in Scotland and Iona & Staffa which can be accessed from the south of the island are also of great interest. Iona being the birthplace of Christianity in Britain.
The Isle of Arran truly lives up to its tourists branding of being 'Scotland in Miniature' as it encompasses a stunning coast and mountainous hinterland as well as whisky and golf. The best of its courses is a unique little golf course called Shiskine in Blackwaterfoot. It has a very interesting layout and must be the only few 12 –hole golf courses in the world. A couple of days on Arran would enhance any Scottish golf tour itinerary.