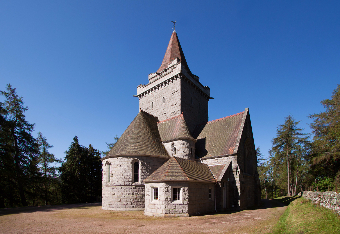 Crathie Church
Crathie Kirk is a small Church of Scotland parish church which is united with neighbouring Braemar to form a single parish with two places of worship. Surrounded by spectacular scenery this is a must when visiting the North East of Scotland.
The church was completed in 1895 and boasts stunning architecture in Gothic revival style by A. Marshall Mackenzie, an Elgin architect. Once you are finished admiring the beautiful building, explore the grounds of the church, which include the remains of the previous 14th century church and graveyard. Many of Queen Victoria's personal attendants were buried here so make sure you spend time discovering  the headstones with personal epitaphs from Queen Victoria herself.
Queen Victoria started the long history of affiliation Cathrie Kirk has with the Royal Family to the present day. Princess Anne chose to be married to her second husband in Cathrie Kirk and the Royal Family are known to visit Crathie Church frequently when they are staying at nearby Balmoral Castle.